For many, buying a car or truck involves hours of traveling to various dealerships in far-flung towns, searching for the right car at the best possible price from a dealer who seems in tune with their needs. Fortunately, West Chester residents don't need to go through all that rigmarole and hassle with the outstanding value and service available at the local Ford dealer, Fred Beans Ford of West Chester.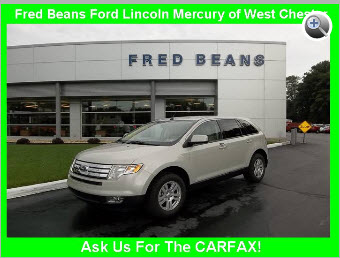 For decades, Fred Beans dealerships have been known for their unparalleled service and outstanding values. Our Ford location in West Chester continues that tradition, offering a first-rate auto service department, a vast inventory of new and used cars and trucks, online tools to help you in your search for a car or truck and the famouos AutoRewards program giving you access to special discounts and deals. With all that the local Fred Beans dealer has to offer, why would you step foot outside of West Chester in your hunt for a new auto?
Sure, we've got it lucky here in West Chester with our beautiful surroundings, pivotal place in American history and our access to loads of attractions, shopping sites and transportation options. That's why it's nice to be able to drive a few minutes to Fred Beans Ford on West Chester Pike and take care of all your auto needs in one easy trip. That leaves you more time and money to relish a nice meal at the Dilworthtown Inn or wander through some of downtown's boutiques. It's no wonder the Philadelphia Inquirer named our West Chester "one of the world's most perfect small towns."
Getting to Fred Beans Ford Lincoln of West Chester, PA
Getting to the dealership is fairly simple from any location in West Chester and is convenient to other towns such as West Goshen and Newtown Square. From QVC headquarters, head northeast on Wilson Drive and turn left on E. Boot Road. Merge onto US 202 South, then merge onto West Chester Pike towards Newtown Square.
Fred Beans Ford of West Chester is on the left with the giant American flag. From downtown West Chester, just head east on E. Market Street, stay to the right at the fork and make a slight right onto West Chester Pike. You'll be glad you didn't waste your time and money going anywhere else.